This is the fifth episode of season two of the series.
Synopsis
When Stane builds duplicates of the Iron Man armors called the Guardsmen (consisting of Force and Shockwave, Tony must reveal they are frauds.) But, this causes the civilians to start hating Tony. Obadiah Stane holds a news about the Guardsmen and that they can trust the Guardmens and tells about the Stark International Guardsmen Expo where he will reveal the Firepower armor. Pepper finds out the identities of Force and Shockwave, revealing they are criminals. That day, Stark International Guardsmen Expo begin and people sit down and Obadiah came and made his move but showing Force and Shockwave but showing the newest armor called Firepower (simillar to Firepower) but with the latest weapons. Then Tony suits up and go to the Expo and fakes to surrender to Stane but instead reveals Force and Shockwave's idenity to the world, and with the help of Rhodey (who came later) defeats Firepower. Force and Shockwave surrender. Iron Man and War Machine are the civilans's favorite heros. Obadiah makes up a lie that Force and Shockwave made up fake identities to use the armor. Stane then goes to the scientists in charge, handing over data on how to work out the bugs in the Iron Monger project armor.
Appearances
Photos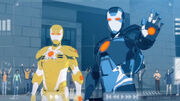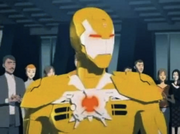 Ad blocker interference detected!
Wikia is a free-to-use site that makes money from advertising. We have a modified experience for viewers using ad blockers

Wikia is not accessible if you've made further modifications. Remove the custom ad blocker rule(s) and the page will load as expected.