This is the sixth episode of season two in the series.
Synopsis
Several attacks on Hammer Multinational lead Tony to discover that Stark International is involved in a civil war. Iron Man discovers that Black Panther is back and is targeting Justin Hammer. Iron Man ends up coming to Black Panther's aid when Justin Hammer hires Black Knight to dispose of Black Panther.
Appearances
Photos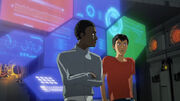 Ad blocker interference detected!
Wikia is a free-to-use site that makes money from advertising. We have a modified experience for viewers using ad blockers

Wikia is not accessible if you've made further modifications. Remove the custom ad blocker rule(s) and the page will load as expected.