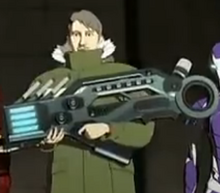 The Makluan Energy Disruptor, A.K.A. the Quantum Dot Energy Field Suppressor was invented by Howard Stark specifically to disable the Makluan Rings. Unfortunately, it only does this temporarily, but it is still long enough to make the ring wielder open to attack. The second version which "theoretically it's 80% more powerful than the old cannon," as said by Howard, was used to weaken the Makluan Overlord after it was attached to Tony's Satellite.
Ad blocker interference detected!
Wikia is a free-to-use site that makes money from advertising. We have a modified experience for viewers using ad blockers

Wikia is not accessible if you've made further modifications. Remove the custom ad blocker rule(s) and the page will load as expected.