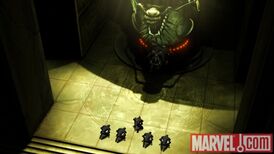 The
Mandarin's Lair
is the lair of the present
Mandarin
.
Overview
It is located underground under an import/export antique shop in the Chinatown part of New York City.
This place has a throne room with a dragon over its head where Mandarin sits on. It also has a dungeon where he imprisons whomever he wishes.
This used to be the headquarters of the Zhang's Tong organization in the first season. But it seems that they either abandoned it or were forced out by Gene Khan in season two. The place now serves as Gene's fortress where he keeps Howard Stark when he was his prisoner.
Gallery
See also
Ad blocker interference detected!
Wikia is a free-to-use site that makes money from advertising. We have a modified experience for viewers using ad blockers

Wikia is not accessible if you've made further modifications. Remove the custom ad blocker rule(s) and the page will load as expected.