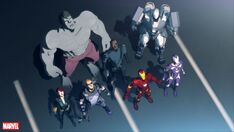 This is the twenty-sixth and last episode of the second season.
Synopsis
Tony, Rhodey, and Pepper must team up with Nick Fury, Hawkeye, Black Widow, the Hulk and Black Panther to save all of New York from the increasingly strong alien Makluan Invasion.
Appearances
Ad blocker interference detected!
Wikia is a free-to-use site that makes money from advertising. We have a modified experience for viewers using ad blockers

Wikia is not accessible if you've made further modifications. Remove the custom ad blocker rule(s) and the page will load as expected.