This is the eighth episode of the series.
Synopsis
Obadiah Stane forms an unlikely partnership with Doctor Doom in a plot to claim the Iron Man armor. Unfortunately, Doctor Doom has plans of his own for Iron Man, as he needs the armors electrical recovery systems to advance his armor. An initial study of Doom's armor show it using Quantum Tech; technology so advanced, it is indistinguishable from magic. As Doom bests Iron Man on multiple occasions, He secretly repurposes the Iron Monger core, that Stane asks him to advance, in to wipe out the Eastern sea board. Iron Man arrives in time to contain the blast, destroying only one floor. War Machine stops Doom in transit and Iron Man arrives to fight Doom. As Doom uses a portal to the realm of Dormammu to eliminate Tony, S.H.I.E.L.D. arrives to take Doom back to Latveria, Tony recovers, and rushes to make whats left of his date with Whitney. Back at the armory, the analysis of Doom's armor show similar designs to the Makluan Rings. Meanwhile Gene and Howard find the 7th ring and its guardian: The Sunturion.
Appearances
Photos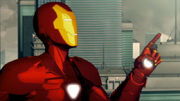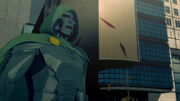 Ad blocker interference detected!
Wikia is a free-to-use site that makes money from advertising. We have a modified experience for viewers using ad blockers

Wikia is not accessible if you've made further modifications. Remove the custom ad blocker rule(s) and the page will load as expected.