This is the 23rd episode of Iron Man: Armored Adventures.
Plot
The Controller uses a boy named Rick Jones to get the Hulk to take revenge on A.I.M. Stepping in, Iron Man is taken over by the Controller and only the Hulk can stop him.
Appearances
Trivia
At no point in the episode does the Hulk transform back into Bruce Banner even when he's calm.
Pepper made a reference to a famous quote that Bruce Banner uses to warn people (Don't make me angry, you wouldn't like me when I'm angry) about Rhodey (I'm glad he's staying behind, you wouldn't like Rhodey when he's angry)
Photos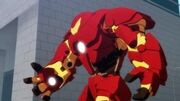 Ad blocker interference detected!
Wikia is a free-to-use site that makes money from advertising. We have a modified experience for viewers using ad blockers

Wikia is not accessible if you've made further modifications. Remove the custom ad blocker rule(s) and the page will load as expected.